v i c t o R g a d
v i c t o R g a d
v i c t o R g a d


victoR divides his time between Fine:Lines, Rough:Lines and iLLustrations.
He works in his studio and in many neighbourhood cafes.
His idiosyncratic sense of humour and love for anything outrageous or surreal is evident in everything he does.
He loves to explore the nooks and crannies of old Toronto neighbourhood including all lost rivers.

Passionate about music, he is continually modifying his speakers in pursuit of a perfect, natural sound.

victoR, visual artist, painter, has also illustrated several books for children and his editorial work has appeared in numerous magazines, newspapers, and other publications in Canada, the USA, and Europe. He has won many awards, honourable mentions and numerous pieces of watermarked paper with his name on it.
Before moving to Canada, he was active as a painter, graphic designer, illustrator, cartoonist. He also invented, designed many published board games of varying levels of complexity.
Earlier still, he graduated from the Academy of Fine Arts in Warsaw with an MFA in graphic design (only because he needed to receive a degree in the form of a piece of fine paper with his name on it).
victoR had started his higher education at the Academy of Fine Arts in Katowice, where he studied for 2 years. Today, however, no one will remember him there, so he often skips this formative episode when relating his history.
While still in elementary school, he won a nationally televised contest organized by a well-known artist and TV personality. Yet in victoR's small town, nobody believed it was him, even when his name and town were read on the program. That profound experience reshaped his plans for the future. He decided not to be a track maintenance man for the local railway.
victoR grew up in a house close to a railway line. He studied every detail and function of the old, dilapidated steam engines as they rolled by. By the age of six, he had drawn hundreds of them. This never-ending supply of art on paper was regularly utilized by his mother for the purpose of heating the house.
He was born near Brzeszcze [ˈbʐɛʂt͡ʂɛ], a small mining town in Poland.
Earlier than that, there was no victoR. Yet.
r e c e n t e x h i b i t i o n
A r t S q u a r e G a l l e r y
Toronto, Dec. 2016 ...two days of Jan. 2017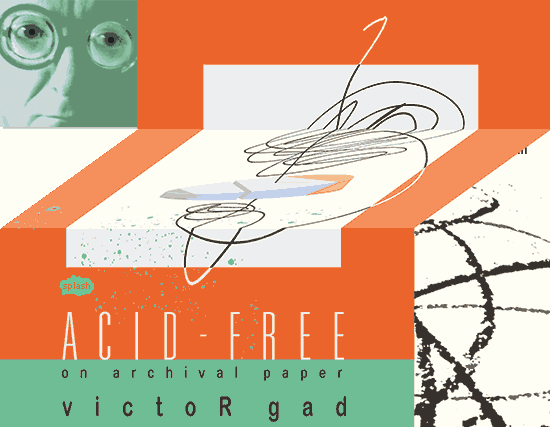 e a r l i e r s h o w s + s h o w i n g s
WINDOW DRESSING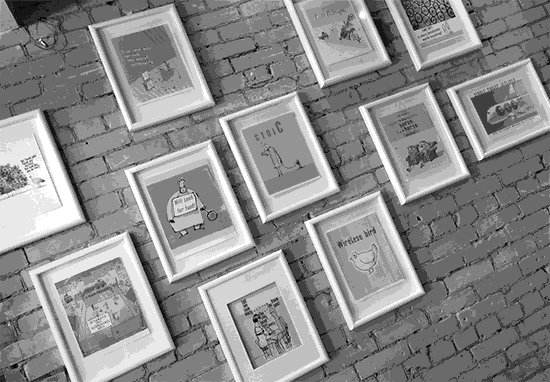 Roncesvalles Festival, Toronto, 2016;
ROUGHLINES
Maya Foltyn's Open Studio, Toronto, 2015,
(at the begining of gift buying season);
EGG BENEDICT EGG
University of Social Sciences and Humanities Gallery, Katowice, Poland, 2015;
ROUGHLINES, SIDELINES and CONFESSION ROADS
Out in the Sticks Gallery, Yarker, Ontario, 2011;
WHEN CYNIC MEETS SKEPTIC - with A. Pawlowski - sculptor
Art Square Gallery, Toronto 2009;


A SUBTLE ART OF SCAVENGING
(...or was it earlier? I have to ask Zack...);

P R E V I O U S C E N T U R Y
VICTOR GAD FROM FAX
Museum of Caricature, Warsaw;
VICTOR GAD FROM FAX
Pekao Gallery Toronto;
WALK-IN PORTFOLIO
PAAS Gallery, New York
INCREDIBLE DRIVE TO SHOW OFF – "Unfinished" Collection
BWA Gallery, Warsaw;
and BWA Gallery, Torun, Poland;
RHETORICAL LANDSCAPES
Art Gallery, Warsaw;
13 GLOOMY PORTRAITS FOR SALE
Portrait Gallery, Warsaw;
BOUTIQUE – A Joke in 40 Pictures
Gallery Repassage, Warsaw;
LAUGHABLE ILLUSTRATIONS
Hybrydy Gallery, Warsaw;


g r o u p     s h o w s

SHARED PLACES, SHARED SPACES
Propeller Centre for the Visual Arts, Toronto, 2014;
6x6 FUND RAISING EXHIBITION
for Rochester Contemporary Art Center, USA, 2012;
DRAWING 2012: 13 Annual Juried Exhibition
John B. Aird Gallery, Toronto;
ECO ART SHOW
Gallery 1313, Toronto 2012;
SPEAKEASY's ILLUSTRATION SHOW
The Gladstone Hotel, Toronto, 2011;
OCAD Auction and exhibition of small works
OCAD, Toronto 2010;
ART POLONICA TWO
Art Square Gallery, Toronto 2010;
ART POLONICA ONE
Art Square Gallery, Toronto 2009;
CANADIAN ART BY POLISH ARTISTS
Toronto City Hall 1992;
ONCE UPON A TIME – exhibition of children's book illustration
Vancouver Art Gallery (featured artist);
12 INTERNATIONAL POSTER BIENNALE
The Poster Museum at Wilanow, Poland;
BOLOGNA CHILDREN'S BOOK FAIR – Illustrators Exhibition
Bologna, Italy; Japan;
SHORT PIECES FOR SPARROWS
The Art of Young Artists, Lodz, Poland (featured artist).



r e c o g n i t i o n

Ontario Arts Council Grant 2011;
The Advertising and Design Club of Canada,
Merit Award for The Toronto Star;
Society of Newspaper Design,
Merit Award for The Toronto Star;
Society of Newspaper Design,
Silver Award for The Globe and Mail illustration;
National Magazine Award for the illustration,
CIO Canada Magazine;
"White Ravens of Children Books" – International Youth Library in Munich, Germany, for the illustrated book Mischief City written by Tim Wynne Jones;
The Art Director's Club of Toronto Award,
for Canadian Business Magazine (Old Corporate Testament).
©   v i c t o R   g a d