v i c t o R g a d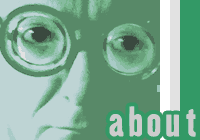 "victoR tends to disarm the viewer with silly drollery, but storms one's raison d'être by creating dissonance through contradiction – he is an artist who brazenly reviews and challenges what he sees with a creative twist of artful commentary and clever quips."
(by Li Koo, from the exhibition catalogue)

victoRs work has appeared in numerous publications in Canada, USA and Europe.
He has also illustrated several books for children.

He has exhibited his drawings and paintings in individual and group shows in Canada, USA, Poland, Italy and Japan.